Harden, Bingley BD16 1AT
Open 24 hours a day, all year round
Accessibility route
Angling
Café
Car parking
Children's play area
Cycle route
Horse route
Nature reserve
Picnic area
Pond
Public sculpture
Toilet
Visitor centre
Walking routes
Walled garden
Wildflower area
St Ives Estate, Harden, United Kingdom
Quick description
The largest park in the Bradford district, it offers something for the whole family, including walking trails, horse riding, adventure play, golf, fishing, and archery. 
What's there?
St Ives Park is the perfect destination for people who want to spend time in nature and explore the great outdoors. Spanning 217 hectares, this vast woodland park is the largest in the district. Visitors come from near and far to walk and cycle amongst the dense woodland and wildflower or sit back and enjoy the breath-taking views.
Younger visitors have plenty of opportunities for fun and adventure in the large, state-of-the-art play area. The Estate is also home to various independent groups and clubs, including angling, horse riding, archery, and golf. So whether it is to exercise, play, eat or just relax, this park has something to offer everyone.
Play area
This large play area includes a wide variety of play equipment, including a zip line, tyre swings, climbing structures and a tunnel slide. In 2023 a section of the play area was redeveloped to include play equipment for children aged up to five/six years. The new equipment was built with natural materials, including a swing and climbing structures.  
Walk and cycle  
Walkers and cyclists are welcome at St Ives. Some routes are open to all traffic, and some are restricted, so take note of the signs. There are a number of self-contained circular walks within the estate. For more information, visit the walks area of the website. Dogs should always be kept under close control.  
Bird watching 
This wooded area is made up of mature coppice, mixed broadleaf and coniferous surfaces, bramble patches and glades. Due to its diverse range of habitats, St Ives Woodlands makes for an excellent spot for bird watching. Common sightings include woodland birds, crows, jackdaws, nuthatches, woodpeckers, grey partridges and buzzards. 
Fishing – Coppice Pond 
Bingley Angling Club have sole access to fishing at Coppice Pond. Find our more, including how to become a member here: https://bingleyanglingclub.co.uk/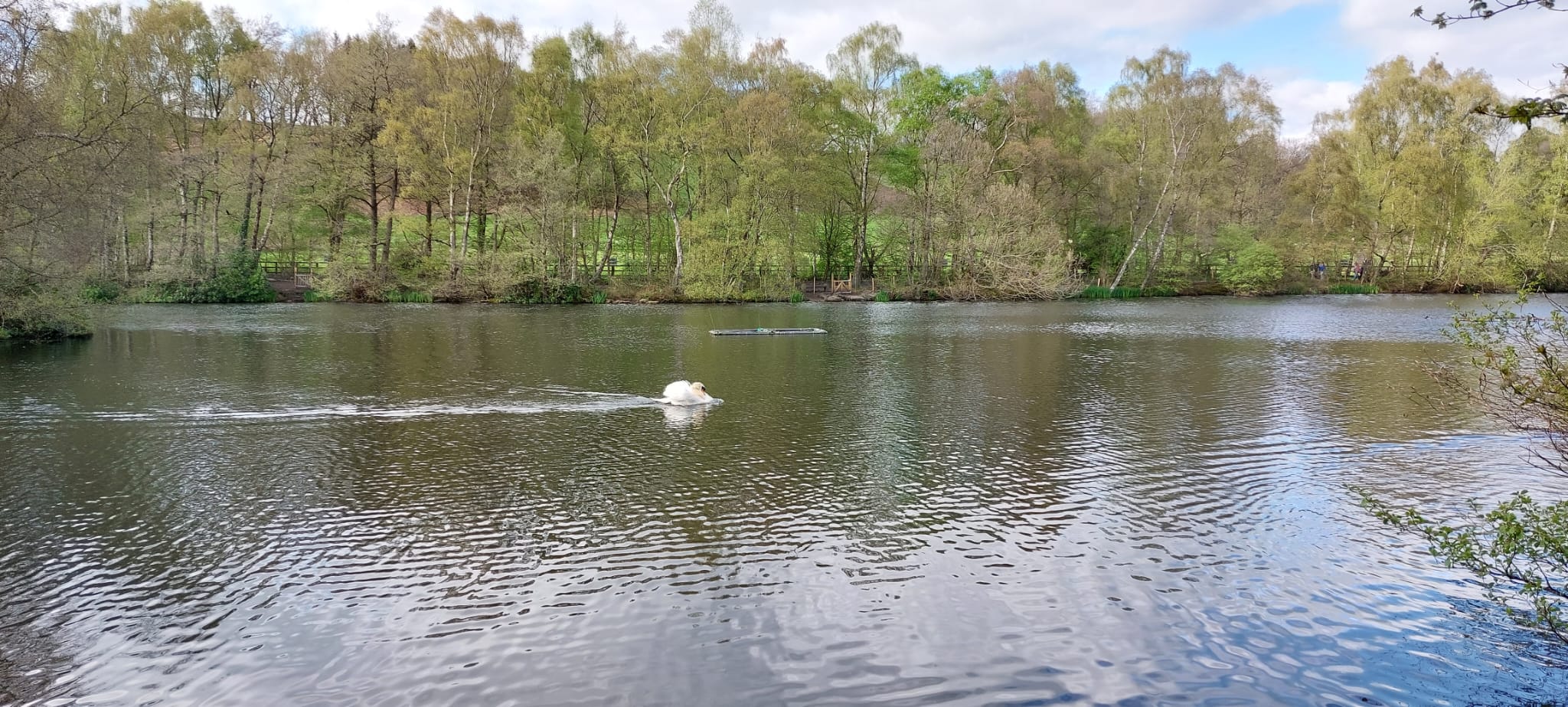 Archery 
Aire Valley Archers is a run from the grounds of St Ives. Find out more, including how to become a member here:  https://www.aire-valley-archers.co.uk/  
Horse riding 
St Ives Equestrian Centre offers horse-riding lessons, stables, dressage, saddlery and livery facilities to its clients. Visit the Facebook page here: https://www.facebook.com/StIvesEquestrianCentreLivery  
Golf 
Bingley St Ives Golf Course is laid out in a single loop formation which leaves the clubhouse to move through parkland, woodland and moorland before returning again to the clubhouse to complete the 18 holes. Find out more, including membership information here: https://www.bingleystivesgc.com/  
Café 
The Ivy Kitchen is a dog-friendly café based in the heart of St Ives Estate. Visit the Facebook page here: https://www.facebook.com/theivykitchenstives/  
History
Bronze Age to Middle Ages 
For at least 4,800 years, humans have called Airedale home, and St Ives has been witness to their presence throughout this period. Artefacts of pre-historic origins found on the estate demonstrate that people resided here during the late Bronze Age, between 2800 and 500 BCE. 
During the early Middle Ages (600–1066), Halton was part of the Kingdom of Northumbria and England. According to the 1066 Doomsday Book, the land belonged to Gospatric, son of Arnketil, Earl of Northumberland. However, Gospatric's involvement in the unsuccessful uprising of 1068 caused his lands to be passed to Erneis de Buron, who had fought alongside William of Normandy at the Battle of Hastings. Approximately a hundred years later (1165), the land was granted to Rievaulx Abbey and was in their possession for the next 355 years until their dissolution by Henry VIII in 1536-1541. 
The Ferrands 
In 1635, the Ferrands bought St. Ives, then called Harden Grange. It is said that there is a link between General Fairfax and the Civil War, though this is uncertain. Sarah Busfeild (née Ferrand) inherited the property from her uncle. Upon Sarah's death in 1854, her son William Busfeild Ferrand was the next in line. William subsequently changed the family name to Ferrand.
Modern day St Ives 
In 1974 the City of Bradford Council acquired the grounds from Bingley UDC and the grounds opened to the public. At this time a golf course was added (now a private club) and certain areas and buildings leased out to private companies. 
Natural history
Birds 
At St Ives, birds are a noticeable presence during every season. Jays can be seen flying from woodlands to open fields to store acorns. If you pay close attention, you might even see the slender bill of a treecreeper searching for its insect food on tree trunks. During winter, finches can be heard and seen in treetops, gathering the small seeds from alders, birches, and conifers. 
Woodland 
The woodlands across the site may vary depending on the soil conditions, aspect, planting stock, and management. Here, native trees and non-native species like larch, spruce, and horse chestnut are present in a wide variety. 
Invertebrates 
Watch out for the curious-looking dark-edged bee-fly in early spring along sun-drenched woodland rides. 
Fish 
At St Ives there is a population of the ever increasingly scarce, white-clawed crayfish.  
Plants 
No matter the season, the beauty of plants can always be appreciated. From the mature deciduous trees in winter to the English bluebells of spring and the ferns of summer, the woodlands are full of life and colour all year round. 
Resources
Friends Group 
Visit the Friends of Bradford District Parks page to find out more about activities and initiatives coordinated by the Friends of St Ives.  
Accreditation and awards
What's on
Visit the
things to do
area for details of all events.   
Friends of St Ives 
Events regularly posted on the Friends group Facebook page here: https://www.facebook.com/TheFriendsOfStIvesEstate