Bridge Lane, Ilkley LS29 9EU
Open 24 hours a day, all year round
Accessibility route
Car parking
Children's play area
Picnic area
River
Skate park
Walking routes
Wildflower area
Ilkley Park/Riverside Gardens, 33 Bridge Lane, Ilkley LS29 9EU, UK
Quick description
Beautifully set alongside the River Wharfe, with a large well-equipped play area and wide open green spaces, the park is perfect for a day out with the family.  
What's there?
Riverside Gardens is just a short walk from the bustling picturesque village of Ilkley. Running alongside the beautiful River Wharfe, the park is lined with lush trees and in the summer months, it's bursting with brightly coloured flower beds.
The star of the show is the newly renovated play area, providing a variety of equipment suitable for a broad age group.
Visitors come from all over West Yorkshire to picnic and play games on the large greens or enjoy a stroll along with bench-lined walkways.
Play area
In 2022 the play area underwent a redevelopment with the aim of providing a wide variety of play experiences for children of all ages.  
Surrounded by fences for safety, the area includes a toddler play zone, a natural play area, shell and duo swings, 'spicas' and 'we-hoppers' for rocking and spinning, an accessible roundabout, a multi-seesaw, sensory play, two racing zip-wires, and an agility trail with balancing and adventure elements. The play equipment and features are all inspired by the local landscape, with river-themed graphics throughout.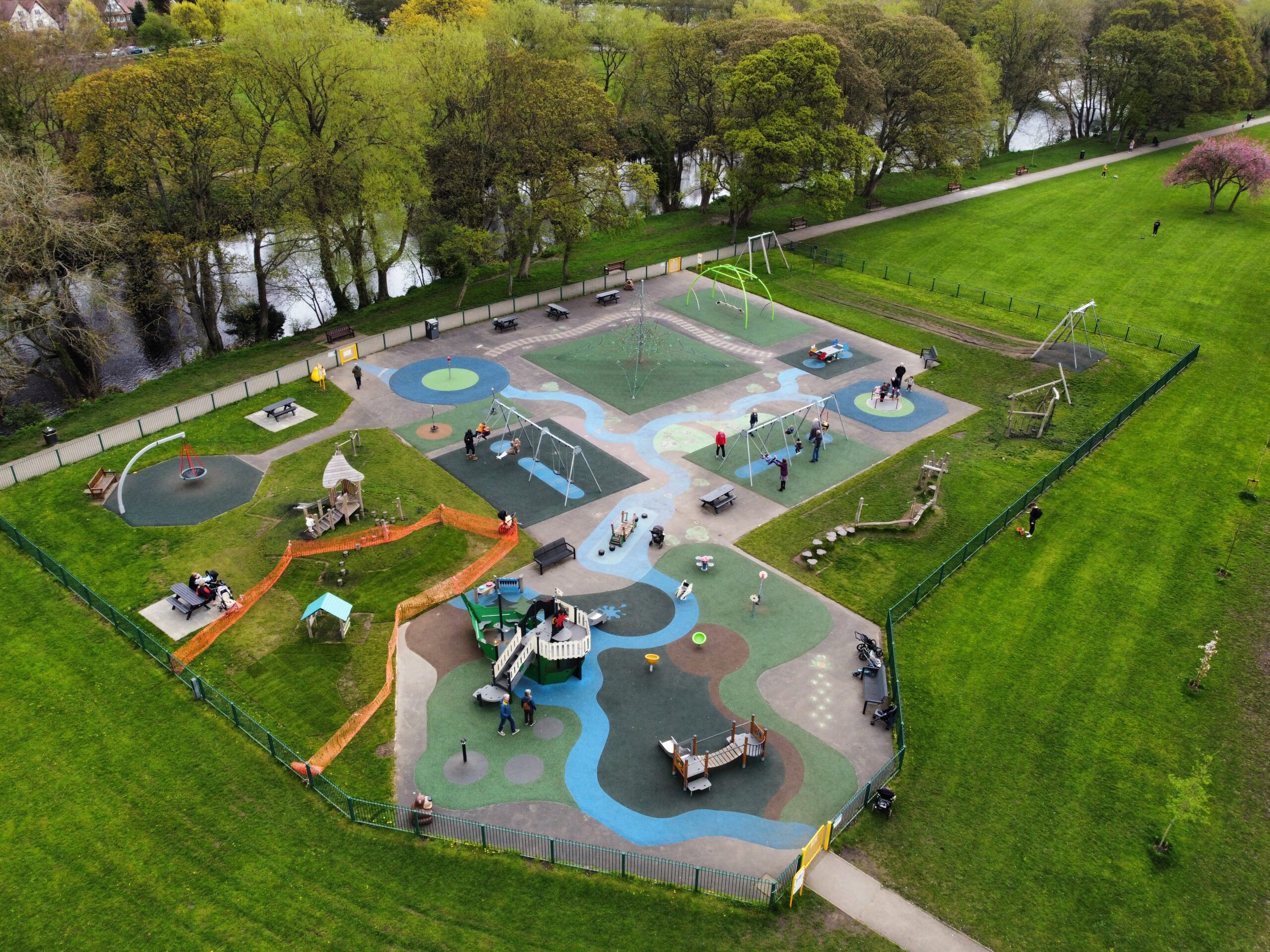 Skate park 
The well-maintained park provides a safe and fun environment for skateboarders and BMXers of all skill levels to practice their tricks.  
Pétanque terrain
Pétanque is a French game similar to bowls, in which players toss metal balls at a smaller wooden ball known as the cochonnet (piglet). The goal is to land the metal balls as close as possible to the cochonnet.   
In April 2022, Riverside Gardens was the first park in the district to open a pétanque pitch. Membership is only £10 per annum, and members meet three times a week to play. For more information about becoming a member, please email [email protected]. Alternatively, anybody can play with their own boules for free outside the reserved times. Sets of boules are also available to borrow, free of charge, from the Riverside Hotel. 
River Wharfe 
The River Wharfe rises in the Yorkshire Dales and flows through various towns, including Ilkley. The river is an important recreational resource, with many anglers and water sports enthusiasts using it for activities such as fishing, canoeing, rowing and sailing. 
Riverside Hotel and Pub 
The Riverside Hotel and Pub serves food and drink, and their Kabin serves takeaway fish & chips, hot drinks, pizza and ice creams. For more information, visit: https://ilkley-riversidehotel.com/  
History
Second world war memorial 
The plaque reads "The grounds were provided by public subscription in memory of the Ilkley Residents who made the supreme sacrifice in the Second World War. 1939 – 1945.  
Natural history
Common species that can be found include Kingfishers, Grey Herons, Mallards, Goosanders, Little Grebes, and Sand Martins. Mammals such as Otters, Muskrats, and Water Voles can also be found in the riverside gardens. Invertebrates such as Dragonflies, Damselflies, and Crayfish can be found in and around the river as well. Plants such as Reedmace, Water Forget-me-not, and Water Lilies also thrive in the area. 
Resources
Friends of Ilkley Riverside Park
Visit the Friends of Bradford District Parks page to find out more about activities and initiatives coordinated by the Friends of Ilkley Riverside Park. 
What's on
Visit the things to do
area for details of all events.   
Ilkley Food & Drink Festival 
The Ilkley Food and Drink Festival is a family friendly celebration of International Influence and Local Talent, expressed through International Food, Independent Drink, Live Music, Arts and Charity. All of this is underpinned by our core philosophy to showcase and expose talent based in the locality. 
Friends of Ilkley Riverside Parks 
The Friends of Riverside organise various events throughout the year, which are regularly posted on the Friends Facebook page here: https://www.facebook.com/groups/2283440388535237