Lister Park, North Park Road, BD9 4NR
Daylight hours
Bandstand
Boating lake
Café
Car parking
Multi use games area
Museum
Public sculpture
Tennis court
Toilet
Lister Park, North Park Road, Bradford, United Kingdom
Lister Park is one of Bradford's 6 Green Flag parks and home to Cartwright Hall Museum and Art Gallery.
What's on
Lister Park is home to Bradford's weekly Park Run, it is a popular stop for a visiting fair and there is always an exhibition on at Cartwright Hall, check the calendar for details.
What's there
A formal park with well laid out walks past the Mughal Gardens, art gallery, boating lake, cafe and bandstand.
History
The park was created in 1870 around Manningham Hall and grounds.  The hall was purchased by Bradford Corporation at "half real value" from Samuel Cunliffe Lister, one of Bradford's wealthiest mill owners to provide a Public Park.  An additional much smaller parcel of land was conveyed to the Corporation in 1880 by Mary Field of Heaton Hall and then the Dowager Countess of Rosse and her son, Lawrence Parsons, 4th Earl of Rosse for the purpose of a Carriage Entrance.
On a visit to the park found in 1898 Lister found the hall to be in a shabby and dilapidated condition.  He gifted the proceeds from the previous sale to the Corporation to replace the hall with a permanent memorial to Edmund Cartwright – the inventor of the power loom upon which much of Bradford's prosperity had been founded.
Manningham Hall and grounds in the 1850s before it was purchased by Bradford Corporation.
Lister Park in 1908 following construction of the boating lake and Cartwright Hall.
Bradford Exhibition 1904
Cartwright Hall was completed in time for the Bradford Exhibition of 1904.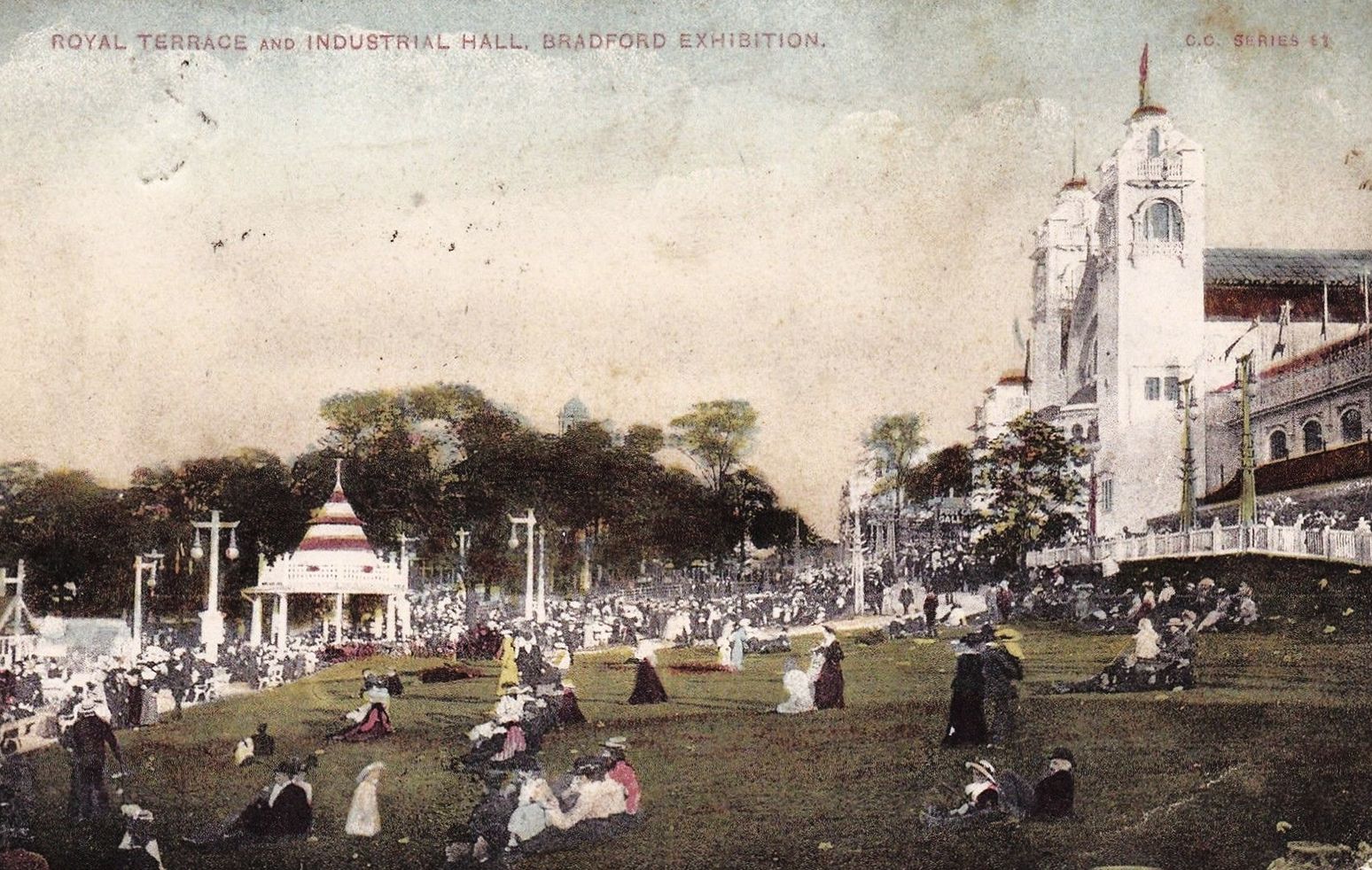 Natural History
A visit to Lister Park at any time of year will result in wildlife sightings.  The mature trees are home to numerous species of bird and the neighbouring gardens provide additional buffering habitat.  Watch and listen for the familiar blackbird, song thrush, robin, and jackdaw.  During winter the park grassland is visited by migrant species such as fieldfare and redwing.
Summer evenings are a great time to observe the fascinating activity of bats.  All 18 species found in the UK are insectivorous.  Several of these such as common pipistrelle and soprano pipistrelle may be seen skirting the tree canopies and lake area hunting for insects to feed on.  Sometimes given a bad press because of the association with horror films, bats are definitely not to be feared and are important in terms of keeping down numbers of midges and mosquitoes.
Listen for the buzz of queen bumblebees early in spring as they visit the colourful display of crocus in the lawns.  These important pollinators need to feed on nectar and pollen following a long sleep to survive the cold of winter.  Without bumblebees, and the other 1,500 or so insect pollinators in the UK, we would have a much less diverse diet.  Bees, wasps, flies, beetles, butterflies and moths aid in the pollination of foods such as apples, strawberries, beans, and tomatoes, so it's important that we provide flower-rich habitat for them in our towns and cities.
Access
A footpath surrounds the park which is accessible to all and suitable for the majority of manual and electric wheelchairs. There is level access from North Park Road and Emm Lane to the park. Wheelchair users may require assistance to access all areas.
Directions
By car
Lister Park is approximately 1 mile from Bradford City Centre on the A650 Keighley road. Vehicle access via North Park Road. There are car parking spaces on the main drive and disabled parking in the bowls pavilion car park and at the rear of Cartwright Hall.
By bus
Many bus routes travel along Manningham Lane/Keighley Road to Lister Park, including 680, 629, 737, 662. For bus timetable information contact Metro on 0113 2457676 or www.wymetro.com
By train
The nearest train station is at Frizinghall - a 10 minute walk up Frizinghall Road leads you to Lister Park. For train timetable information contact Metro on 0113 2457676 or www.wymetro.com
Facilities
Car Park
Free to use. The car park is open from 7am until dusk. The vehicle barrier is locked between 4pm & 6pm. Vehicles still in the park can leave via the one way flaps. Strictly no overnight parking. There is additional disabled parking for visitors to Cartwright Hall at the rear of the building.
Fenced in Play Area
Free to use. No entry allowed to persons over 14 unless supervising a child.
Activities
Ian Dobson, the Heritage Park Officer can be contacted for events etc. Telephone 01274 437673 or email

[email protected]
Multi Activity Community Area
Free to use, open 24 hours. Area includes: 5-a-side, Basketball, Cricket.
Tennis
Free to use, open 24 hours. There are two courts available.
Boating
To hire a boat go to the ticket office window. Row & Peddle Boat - £10 per half hour for 2 people. An Additional £2 per extra person (up to 5 per boat)  £13 family ticket up to 5 persons per half hour.  Open from April - September, 12 noon - 7pm. October 11am - 5pm (Weekends only). 75p per extra person (up to 4 per boat). Waiting times for boats may vary due to demand.  £5 deposit for all boats.
Café
There is a privately run café in the Lister Park boat house. The café serves hot and cold drinks, food and ice-cream. Open April - September 12 noon -7pm. October 11am - 5pm (weekends only) subject to weather.
Toilets
Free toilets (including disabled) are available in the boating pavilion & Cartwright Hall (when they are open).
Flower Gardens
Lister Park contains a variety of flower gardens throughout the park.
Botanical Gardens
The botanical gardens are a beautiful feature of the park, with a geological trail winding throughout the various beds, which are themselves based around the stream. The stream is a copy of Thornton Forge. Extensive landscaping took place during 2001-2002.
Mughal Water Gardens
This eye-catching garden, this first of its kind in Northern England, is a synthesis between Islamic and Indian architectural styles, combining terraces and paths, grassed areas and avenues of trees divided by water channels, cascades and pools in a traditional rectangular design.
Cartwright Hall Art Gallery
Free entry. Bradford's civic art gallery in the heart of Lister Park. Closed Mondays, except summer bank holidays  For more information, visit the Bradford Museums website.
Bandstand
The bandstand sometimes has concerts on Sunday afternoons during the summer.  Check What's on for details of Bandstand Concerts. All the concerts are from 2pm – 4pm If your band is interested in playing on the bandstand email

[email protected]
What's on at Lister Park
Sat, January 23, 2021

Lister Park

We all run for our own enjoyment. Come along and ...

Sat, January 30, 2021

Lister Park

We all run for our own enjoyment. Come along and ...

Sat, February 6, 2021

Lister Park

We all run for our own enjoyment. Come along and ...
See our what's on page
Accreditations and awards