Spring Gardens Lane, Keighley, BD20 6LH
Open 24 hours a day, all year round
Aviary
Bandstand
Café
Car parking
Children's play area
Glass house
Museum
Picnic area
Pond
Toilet
Walking routes
Wildflower area
Cliffe Castle Park, Spring Gardens, Keighley, BD20 6LH
Access
Visit AccessAble to find out about accessibility at Cliffe Castle: https://www.accessable.co.uk/city-of-bradford-metropolitan-district-council/access-guides/cliffe-castle-park  
Quick description
Steeped in history, this space is home to Cliffe Castle House, beautiful Victorian gardens, and a well-equipped play area.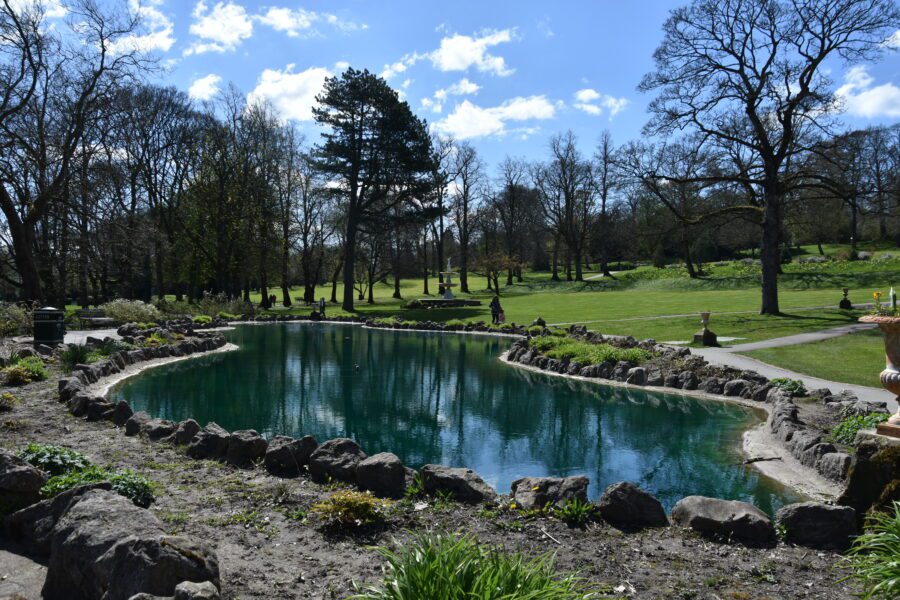 What's there?
Originally the stunning residence of a local Victorian millionaire and textile manufacturer who had links with the family of President Roosevelt.
Today, it is home to Cliffe Castle Museum, surrounded by beautiful Victorian gardens with water features, woodland, a Café and glasshouses, an aviary and small animal house, and a superb children's play area.
Following its Heritage Lottery-funded refurbishment, Cliffe Castle Park received a Green Flag Award – rating it amongst the best in the UK, with the highest environmental standards, beautifully maintained grounds, and excellent visitor facilities. Then most recently in 2022, the park was named 'Best Park in Yorkshire' by Yorkshire in Bloom 2022.
The park hosts various events and activities organised by the heritage parks team, the museum or by the active Friends group, Cliffe Castle Support Group (CCSG).
Cliffe Castle Museum
Originally the home of the Butterfield family, this Victorian mansion has undergone major restoration in recent years. Today, visitors can see atmospheric Victorian reception rooms, complete with period furniture, paintings, decorative art, sparkling chandeliers and renovated historic light fittings.  
There are a wide variety of displays to intrigue and delight, including a glittering array of minerals, local geology specimens and fossils, mounted birds and local mammals and a showcase vintage dolls, toys of domestic items. It would also be difficult to miss the beautifully restored stained-glass window halfway up the Grand Staircase. There is also a varying programme of temporary exhibitions that are surfaced from the museum's collection and from the community.  
Play

area

 
Redeveloped in 2013, the play area includes a crawl tunnel, climbing wall, basket swing, wooden train and ship, and sandpit. The space is accessible and serves children across a wide age range.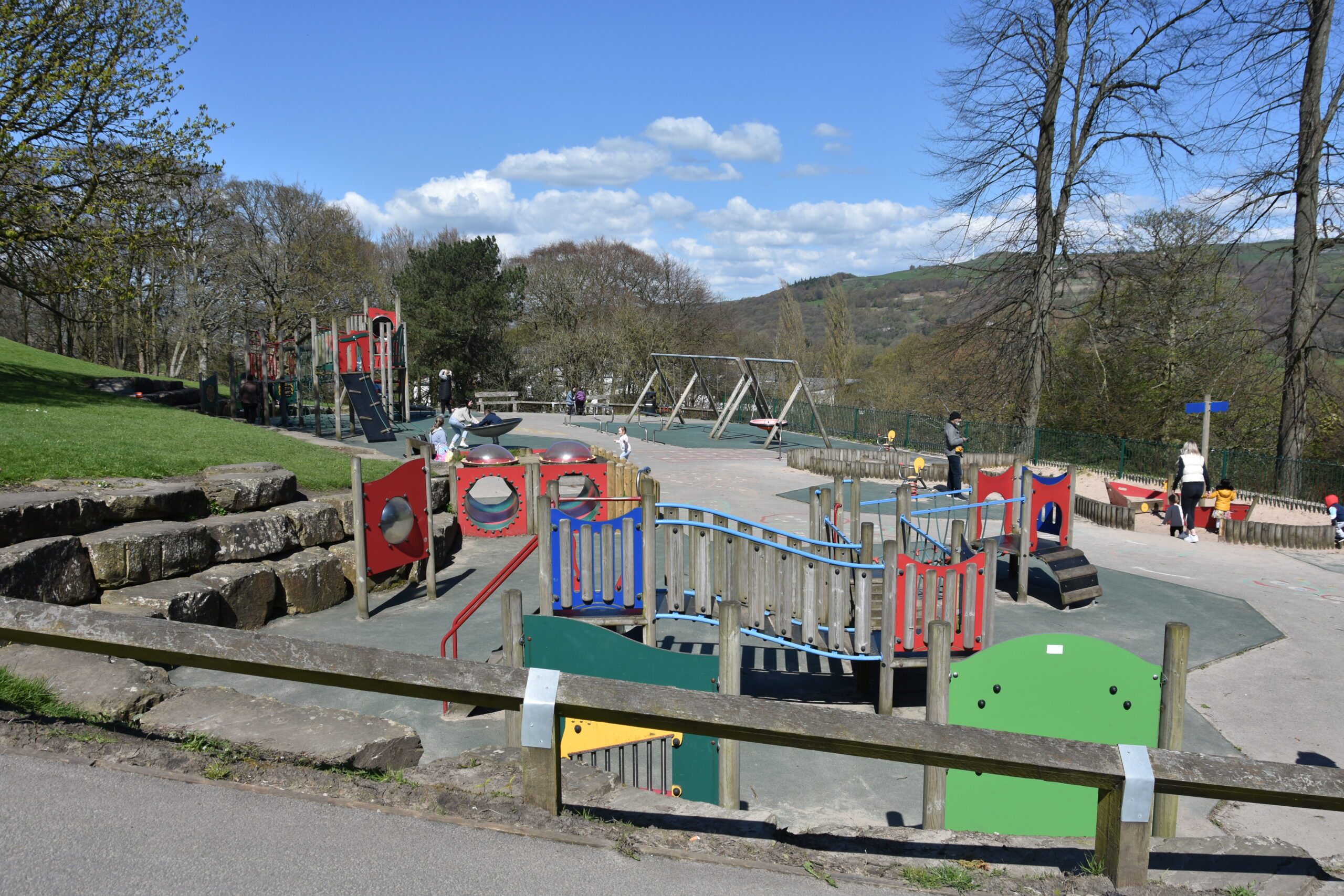 Gardens

and water features 
The grounds of Cliffe Castle remained largely unchanged until the house and gardens were opened to the public in the 1950s.  In 2017, the park received a Heritage Lottery Funding which was used to restore key features such as the glass houses, water features, rock work, tunnel, and terraced gardens. 
A

viary

and small animal house 
The aviary was first introduced following a donation of birds in 1955 from the Keighley Cage Bird Society, the Aviary was born. Now, the animal houses are home to budgies, guinea pigs and rabbits.  
Glasshouses 
The park is also home to the magnificently restored glasshouses, where you can find a wide variety of tropical plants and cacti. This beautiful space also hosts regular community art exhibitions, group events, and activities.   
Pavilion

Café 
The Pavilion Cafe housed in part of the rebuilt glass house offers a range of quality hot and cold food and refreshments. 
History
Cliff

e

Hall (later Cliffe Castle Mus

eum)
Cliffe Castle was originally the home of Victorian millionaire and textile manufacturer, Henry Isaac Butterfield. Completed in the 1880s the building was funded by the Butterfield family's industrial empire which included wool textile mills and a shipping business that took British goods to Europe, America and China. 
The completed house was a showpiece of international art and French decoration. It was the scene of many glittering social events. Butterfield family connections included the Roosevelt's of America and members of the court of Napoleon III. 
In the 1950s the Castle was bought by Sir Bracewell Smith, a local man who became Lord Mayor of London. Sir Bracewell used architect Sir Albert Richardson to turn Cliffe Castle's gardens into a grand public park and remodelled the Castle to be a free museum for the people of the district. 
Gardens and glasshouses
The gardens date back to 1878 when a Bradford Surveyor, Mr. Murray, is employed to landscape the grounds and plant trees, mainly lime, chestnut, and sycamore. Copying the garden at nearby Oakworth, a rockery and grotto are built, and two three-tier carved marble fountains brought from Italy, which, together with the pond, all have limestone rock work around them.  The garden was boarded by a glasshouse range designed by local architect George Smith and constructed by Messenger & Co of Loughborough. They were made from cast iron and wood and finished in green, cream, and gold estate colours. The centrepiece of the range was the Dome House containing a well-grown Norfolk Island pine. Each section of the range was devoted to a different plant collection and included exotics such as bananas. The houses stepped upwards towards the vineries where grapes were grown. 
In 1956 Professor Sir Albert Richardson visited Cliffe Castle and commented, "I think the gardens with their autumn tints are among the best of their kind for landscape gardens."
The original glasshouses were demolished in the 1920s and later replaced in the 1960s with a modern aluminium greenhouse. The Dome House and range were recreated with Heritage Lottery Funding in 2017 on the original floor plan.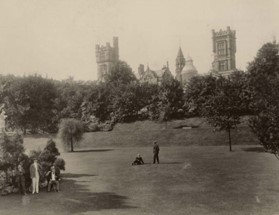 Natural history
Cliffe Castle Park in Bradford is home to many species of wildlife. Common species include foxes, badgers, rabbits, hedgehogs, and deer. There are also many species of birds present in the park, such as woodpeckers, finches, and robins. In addition, the park is home to a variety of amphibians and insects, like frogs, toads, and butterflies.
Resources
Friends Group 
Visit the Friends of Bradford District Parks page to find out more about the Cliffe Castle Support Group.
Cliffe Castle Museum
Visit Bradford Museums and Galleries website for more information about Cliffe Castle: https://bradfordmuseums.org/cliffe-castle/
Walks
Visit the walks area to download the Cliffe Castle Wellbeing Walk.
Café
Visit the café website for opening hours and a menu: http://cliffecastlepavilion.co.uk/
Accreditation and awards
What's on
Visit the things to do

 area for details of all events.   

 
Cliffe Castle Support Group
Events regularly posted on the Friends group Facebook page here: https://www.facebook.com/search/top?q=cliffe%20castle%20support%20group
Download: Timetable of events and activities – Health and Wellbeing Cliffe Castle (PDF)
Parkrun
A free, fun, and friendly weekly 5k community event. Every Saturday at 9 am. Visit the Parkrun website for more information: https://www.parkrun.org.uk/cliffecastle/
Events at Cliffe Castle Museum & Park
Park run

Every Saturday Starts at 9am
See our things to do page